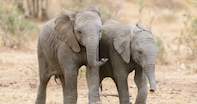 © Shem Compion
Our recommended safari packages and tours to Timbavati Private Game Reserve, bordering Kruger National Park.
If you're looking for the ultimate safari experience, Timbavati is the place for you. The reserve borders Kruger National Park, which means that there are no fences between the two and animals can freely move in and out of the park.
This means that when you go on game drives on a Timbavati safari, you have an excellent chance of seeing the big five: lions, elephants, leopards, rhinos and buffalo.
Game drives usually take place in cooler times of day when animals are more active and there's a better chance of encountering abundant wildlife. There are also thrilling night game drives which go in search of fascinating nocturnal animals.
Timbavati walking safaris inspire a degree of respect for nature when visitors realize that they are participants and not just spectators - there's no greater way to enjoy the essence of Africa than on foot!
All Timbavati safari packages include meals, transfers, game viewing and luxury lodge accommodation. All Timbavati Safari Packages can be customized.
We've outlined some of our favourites below, but if you're keen to save time, our Travel Specialists are always on hand to help. After a few questions about your travel preferences, they'll whip up an itinerary at the drop of a hat and have you on your way in no time at all.