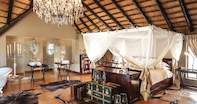 Timbavati Exclusive Use Safari Lodges in Timbavati Game Reserve, South Africa, offer a completely private experience.
From ultra-luxurious lodges to blissful bush camps and modern safari villas, the Timbavati is not a reserve that's short on exclusive places to stay.
Whether it's just for you and your sweetheart, or your small group – be it family or friends – we've narrowed down the list to two stylish spots where the animals outnumber the people and you'll have an entire camp to yourselves.
Aside from a high level of luxury, attentive service and absolute privacy, you and your travel party can set the pace each day thanks to the added bonus of a private 4x4 vehicle, a tracker-guide team, a personal host and chef.
Read on to learn more about our exclusive-use accommodation in the Timbavati, or get in touch with one of our dedicated Travel Specialists.