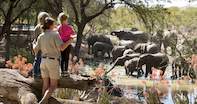 Timbavati Family Safari Lodges in Timbavati Game Reserve, South Africa. Kids on safari can partake in special activities.
Kambaku Safari Lodge is an intimate family-friendly safari lodge located in the pristine Timbavati Private Nature Reserve....
more
Ngala Safari Lodge is a lifestyle lodge in the Timbavati Game Reserve, capturing the romance and tradition of yesteryear....
more