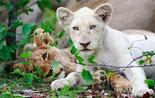 © Discover the White Lions of Timbavati
The Timbavati Private Game Reserve is home to 40 species of mammal including Lion, Leopard, Elephant, Buffalo and Rhino, often referred to as the Big Five. Birdlife is prolific with 360 species of bird making the Timbavati a bird lover's paradise.
Guests can see more species of bird in one day here than what is normally possible in a lifetime.
Daytime drives and walks
in the Timbavati introduce visitors to the wilderness environment and a varied display of wildlife.A totally different perspective is gained on night drives with a powerful spotlight in the Timbavati Reserve. These exciting adventures explore the fascinating
nocturnal world of the bush
where smaller mammals such as Porcupine, Serval, Genet and Civet can be seen amongst many others.
White Lions of the Timbavati
There are only an estimated 500 white lions worldwide - in captivity. Regarded as a most sacred animal by African tribal elders, these
rarest of the rare
have been hunted to extinction in the wild by trophy hunters and poachers. White offspring being born to normal coloured parents (a phenomenon known as Leucism) is not new to this part of the world. The famous White Lions of the Timbavati made headlines in the 70's and 80's.White lions owe their unique colouring to a recessive white gene. This gives rise to a
lion with a white pelt
and pigmented eyes and skin. A number of sightings have been reported in different areas of the Kruger National Park and they could occur again at any time in the Timbavati Prides.