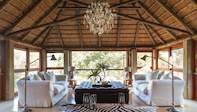 There are plenty of private game reserves surrounding the Greater Kruger, but the Timbavati cracks the nod as one of our all-time safari favourites.
Aside from the 360 bird species recorded here, there's all the members of the Big 5 to see, as well as the exceptionally rare white lions. But, what makes this reserve so special is that vehicles are allowed to venture off the main road. This means that qualified guides and tracker teams have a lot of flexibility when it comes to finding game and you have an even better chance of seeing more.
When it comes to activities, game drives in the Timbavati game drives depart in the morning and late afternoon, but there are also special spot-lit night dives that can be arranged, along with daily guided nature walks.
Once you delve into planning your safari holiday in the Timbavati, you'll quickly find that there are more than a few types of accommodation to choose from. From bush camps to lodges, each has its own subtle differences, quirks and distinctions, and so what we've done to make it easier for our travellers, is grouped them into a few categories.
Our handpicked classic Timbavati safari lodges hit the sweet spot for those seeking a signature safari experience. At these Timbavati safari lodges, the atmosphere is relaxed and laid back, with a strong focus on authenticity and of course, the spectacular wildlife.
If you're wanting to level up on luxury, our luxury Timbavati safari lodges are famous for their top-notch hospitality and high level of personalisation. At these lodges, the appreciation of good food and wine is regarded almost as highly as the game viewing experience.
If you're travelling to the Timbavati with your family in tow, our family Timbavati safari lodges will tick all the right boxes for moms and dads who need a little extra peace of mind. With dedicated kids activities, menus and qualified rangers keeping a watchful eye, there's no reason for families not to book a stay in the Timbavati.
For those heading to the Timbavati Private Game Reserve with groups of friends or extended family members, we also have our range of Timbavati exclusive-use safari lodges. These accommodation options are not just ideal for groups, but also for those wanting an ultra-exclusive safari without interruptions from other guests.
Whatever you're after, our Travel Specialists are always on hand to help make your Timbavati travel planning easier.