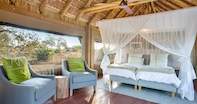 Timbavati Classic Safari Lodges in Timbavati Game Reserve, Greater Kruger Park, South Africa.
Timbavati Private Game Reserve is one of South Africa's most beautiful reserves and a haven for wildlife. Timbavati borders on the Kruger National Park, which means that animals can freely move between the two areas.
The best time to go on game drives in Timbavati is during the cooler hours when animals are more active and there is a better chance of encountering abundant wildlife. You may also choose to go on night game drives in search of fascinating nocturnal animals that are difficult to spot during the day.
With our cherry-picked collection of classic lodges in the Timbavati Private Game Reserve, you are always guaranteed comfortable accommodation, warm and attentive service, and top-notch game viewing.
If you're ready for an adventure into the African wilderness, look no further than staying at a classic safari lodge in Timbavati Private Game Reserve!