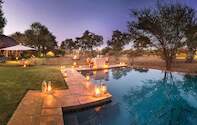 Safari like royalty at Kings Camp which offers a personalised experience in the pristine Timbavati Private Game Reserve, adjoining the Kruger National Park.
Why We Love it and You Will Too
The raised viewing deck offers the best vantage point over an active waterhole which brings in plenty of unexpected bird and animal sightings.
The dining experiences at Kings Camp are second-to-none. Think well-prepared cuisine served up in the most superb settings ranging from the elegant dining room, the outdoor patio and the traditional boma. Kosher travellers are also catered for at this camp.
The tracker-guide team consists of highly knowledgeable individuals who will lead you through the reserve on guided 4x4 game drives and immersive walking safaris.
Since there are no fences between the Timbavati Reserve and the Kruger Park, there is a solid bounty of animals to discover, including those iconic white lions...
Kings Camp is incredibly committed to conservation practices, one being their anti-poaching work with rhinos, an initiative that you can also be apart of during your stay.
Your Kings Camp Experience
Kings Camp reigns supreme with its location in the Timbavati Nature Reserve, adjoining South Africa's Kruger National Park.
Since there are no man-made fences dividing these two regions, animals consistently stream into the area, which is why this reserve has a stellar reputation when it comes to game viewing. Adding to that, the Timbavati is also the only place to witness those legendary white lions.
At Kings Camp you can expect plenty in the way of safari activities, most notably the guided morning and evening game drives, and expert-led bush walks. What makes this lodge particularly appealing, is that you can join the 'rhino chipping' experience, and assist in microchipping rhinos as part of the reserve's anti-poaching initiatives. You could also venture off-site to the nearby Moholoholo Wildlife Rehab Centre, or how about we arrange a hot air balloon flight to give you that bird's eye view of the sunrise over the Blyde River Canyon?
Since there is a waterhole located right in front of Kings Camp, you can keep up the game viewing whenever you fancy. The lodge is filled with plenty of comfy couches that will quickly lure you in after a busy morning exploring the veld. Add in an ice-cold G&T, followed by a private massage at the sala, followed by an afternoon siesta in your private suite and you'll quickly start to feel like a true king!
Expect to eat like one too. Another highlight of King's Camp, which we simply must mention, is the food which our clients always rave about. The lodge also caters for Kosher travellers who can indulge in top quality gourmet Kosher cuisine, prepared under the strictest Kashrut regulations.