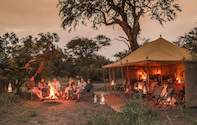 Connect to nature at Tanda Tula Field Camp, an exclusive-use non-permanent camp, operating within the bounds of the game-rich Timbavati Private Nature Reserve in Greater Kruger.
Why We Love it and You Will Too
Your personal chef, waiter and barman will ensure that all meals and drinks are always top-notch, and topped up when you need.
Tanda Tula Field Camp is set up and taken down for each exclusive safari booking, with the locations changing throughout the year depending on the seasons, and game viewing activities.
Daily activities can be easily arranged on a whim, with bush walks and game drives lasting as long or as short as you want them.
Step out on expert-led bush walks where you will track game, and learn the art of tracking, birding, and tree and plant identification.
Sleep comfortably in your private tent, well-equipped with an outdoor bathroom complete with hot bucket shower and eco-friendly toilet. This is glamping at its absolute best!
Your Tanda Tula Field Camp Experience
Tanda Thula Field Camp operates within the Timbavati from the 1st of March to the 31st of October. For the rest of the year, it technically doesn't exist…
During the months of operation, this camp is set up in different locations and taken down for each exclusive-use booking. Not only does this make Thanda Thula Field Camp completely sustainable, but it means that you're guaranteed a completely unique safari experience in comparison to a stay at a permanent safari lodge. No two stays are ever the same.
This explorer-style concept is hard to top and comes highly recommended for those looking for something completely different, without having to share their space with others. You'll have your own private guide, chef, and set-up team, making Tanda Thula Field Camp yours, and yours alone, aside from the odd four-legged visitors who often make their way casually through the camp.
While Tanda Thula may be a non-permanent camp, there's definitely no roughing it. Each tent comes well-equipped with its own outdoor bathroom with a hot water bucket shower, an eco loo and all the much-needed amenities to make for a comfortable stay.
In the Timbavati Private Nature Reserve, wildlife sightings are unparalleled, with game viewing activities arranged according to your personal preferences. You are not bound to the typical lodge routine and can choose how long you want each day to play out. Game drives will last as long as you want them to, as will the walking safaris which Tanda Thula have quickly become the main draw to those wanting to stay here.